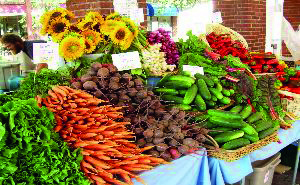 Upcoming Events
We All Eat! Event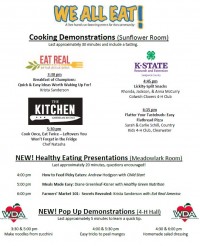 Event flyer in English, Spanish, and NEW this year – free transportation provided by Wichita Transit. Click here for pick up locations and times. Click here for the demonstration schedule.
Event co-sponsored by:


This 3rd annual, free community event was designed to empower individuals to make healthy eating a doable part of their lives through education, hands-on application, access, and support.
The event will serve as a healthy 'foodraiser' for the Kansas Food Bank with a suggested donation of canned tuna, chicken, fruit (in juice), and vegetables (low sodium).





Event schedule posted soon.
Child Start Early Childhood Connections – healthy, child-friendly snack, resources on family style dining, child care and more
Healthy Green Nutrition

LLC

– ways to decrease sugar in the diet
Mental Health Association of South Central Kansas – activities on how diet affects mental health
State of Kansas Department for Children and Families – healthy recipes and ways to stretch

SNAP

dollars
Strong Roots Healthy Farming

LLC

– sampling scatterbrained tea and providing samples of homemade granola bars
Sunflower Health Plan – easy to prepare snack tasting
Wichita Public Library – fruit and veggie beanbag toss
Central Plains Area Agency on Aging – prevent T2 Diabetes Prevention Program
American Heart Association – rethink your drink and fruit infused water station
Sedgwick County Division of Health,

WIC

– kid friendly fruit and vegetables
Orie's Farm Fresh- health benefits of garlic and offering garlic shots
Children's Mercy Wichita – shopping smart to provide quick and healthy family meals
Bike Walk Wichita – biking and walking resources, encouraging people to use active transportation for running errands close to home

ICT

Food Circle – produce ID quiz and learn about local food availability
K-State Research & Extension Therapeutic Master Gardeners – accessible gardening tools, herb plant giveaways
Wichita Dietetic Association – make your own low sodium spice blend and recipes to use the spice blend
Sedgwick County Farm Bureau – how farmers produce healthy food by caring for the environment, focusing on the importance of pollinators to agriculture and some ways farmers use biotechnology
K-State Research & Extension Compost Master Garden Committee – composting techniques, work composting and educating on food waste
K-State Research & Extension Community Gardens – promoting community gardening in Wichita
Health & Wellness Coalition – resources to promote good nutrition and fruit infused water station
Eat Real America – satisfy your sweet tooth with

REAL

food, snack ideas healthy enough to be breakfast and delicious enough to be dessert
Cooking Matters for Parents, Greater Wichita

YMCA

– grab-n-go snack idea and also share about the

FREE

Cooking Matters for Parents classes around the community
Wichita Dietetic Association – building a better breakfast
Premier Food Service – healthy snacks
Jr Chef Academy, Greater Wichita

YMCA

– kids can and should learn to cook! Swing by to hear from some Jr Chef's
K-State Research & Extension – smoothie bike
Greater Wichita

YMCA

– the importance of eating healthy

AND

being physically active with a pickle ball demonstration
Kansas Grown Farmers' Market – shopping and eating locally
GraceMed Health Clinic – demonstrating the importance of drinking low sugar drinks
Wichita Transit – information, route maps, and trip planning to access healthy food
Pampered Chef – featuring tools to prep healthy meals
Graze the Prairie – samples of grass fed beef and lamb
Songbird Juice Company – juice samplings or a smoothie tasting
Active Wellness Solutions – educating on the importance of being well hydrated
Consuelo 4 Health – 12 incredible benefits of getting more greens in your diet

ICT

Food Rescue
Serenity Farm – displaying fresh veggies in grow trays, sampling Swiss Chard Salad
Wichita Habitat for Humanity – interactive trivia game regarding budgeting for groceries
Davita- the hunger scale
For questions, contact Shelley Rich