Physical Activity
Walktober

Plan now to enjoy each day of October's pleasant temperatures with a friend, child, spouse, co-worker, neighbor or pet. You might get hooked! Forming a walking habit is comfortable with the partnership and accountability of friendship, family, neighbors, co-worker or dog. Walking-and-talking is relaxing for mental health and stimulating to body's health.
Sign up HERE to receive weekly updates and for a chance to win prizes!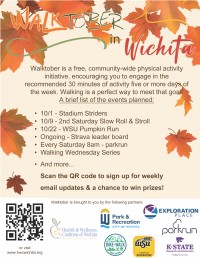 How: Click here join. Strava club members will have the opportunity to win unique prizes through the weekly Walktober newsletter!
What is Strava? Strava is the number one app for runners and cyclists. With this free app, you will receive: activity recording, device support, a social network and a beacon on phones. You can upgrade to unlock additional benefits.
Why use Strava? The City of Wichita pulls Strava user data to help determine infrastructure and safety improvements.
Want to go above and beyond? Create a group challenge within the Walktober 22 club. Click here for instructions. Group Challenges are a way to find motivation and connection with your friends on Strava. Group Challenges allow you to set a goal and a timeframe to see who can reach the challenge goal and beyond. Within the Group Challenge experience, you can keep track of progress, see how other athletes are doing, and view a stream of photos from the challenge. Group Challenges are private and can only be viewed by athletes who are participating in the Group Challenge at that time. Currently, Group Challenges are only available on our mobile apps.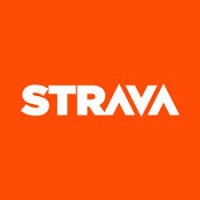 Every Saturday at 8:00am – Parkrun – click here for more details and to register.
Wednesday Walking Series – hosted by Bike Walk Wichita:
October 5th 5:30pm, Delano History, click here for details
October 12th 5:30 pm, Dr. Glen Dey Park, click here for details
October 19th 5:30pm at Lincoln Park, click here for details
October 26th at 5:30pm at Pawnee Prairie Park, click here details
Strava Leaderboard Challenge – join the Strava club for a chance to win prizes!
Evergreen Story Walk – Located at Evergreen Park north of the Evergreen Community Center and Library.
Oregon Trail Activity and Storybooks are made for young children and their families. The books are free for download and feature: Physical Activities, Creative Projects, Mindful Practices, Original Characters, Colorful Badges. It has been shown that kids need at least 60 minutes of active play each day. And this Oregon Trail Activity book is a fun way to get the whole family involved. Read the illustrated storybook with your children and then visit local parks as a family. Your child can earn colorful badges by completing each set of activities. Forming healthy habits and trading screen time for green time has never been so fun!
The following community organizations have partnered to bring this full list of activities in October: Bike Walk Wichita, City of Wichita Park & Recreation, WSU Campus Recreation, K-State Research & Extension


Ideas to promote walking at work:
Set up competitions between department in your worksite
Men vs. Women – based on the percentage of men & women working at the worksite
Competition by floors on multi-level buildings
Does your office require front desk coverage? Consider setting up a front desk relay – one at a time, employees walk a set path and then relieve the front desk staff upon return.
Consider allowing tennis shoe/jeans day
Schedule a regular trash clean-up walk around your facility.


Resources to help you succeed:
1. How to Conduct a Walking Meeting
2. American Heart Association Workplace Walking Program Kit
3. Why Walk at Work
4. Sample physical activity policies
May is Bike Month!
Each year in May, we celebrate bikes and the healthy lifestyle they promote. We recognize the benefits all over Wichita! For the 2022 calendar of events and more check out the Bike Month ICT Website and Facebook page.
To help inspire you to get out and ride your bicycle this May, check off as many items as you can from this Basket List. Share your experiences on Bike Month's Facebook page using #2022BasketList for a chance to win a $100 gift card to a local bike shop awarded on June 1st.
New for 2022!
We have partnered with the Kansas Business Group on Health and Bike Share ICT to provide you with ideas to promote bicycling in May and beyond with lots of ideas in this Workplace Bike Month Toolkit.
Bike Wichita Because…


It's Fun
Time with family & friends
Relive childhood
Refresh — feel the breeze
Reduce stress


It's Healthy
Increased fitness
Weight loss
Heart benefits
Reduced stress


It's Smart
Save money
Keep the air clean
Reduce your carbon footprint