Worksite Wellness
Why Workplace Wellness?
Increasing evidence supports the need for workplace wellness programs, and more companies than ever are implementing health and wellness strategies to reduce injuries, health care costs and long-term disability. With additional benefits such as reduced absenteeism, higher productivity, reduced use of health care benefits and increased morale and loyalty, it's not surprising more and more employers are choosing to implement workplace wellness programs within their companies.
Save the Date for the 2019 Working Well Conference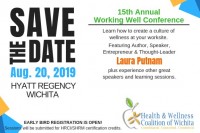 Click on the Working Well Conference tab on left for more information.
Resources