Working Well Conference
2024 Conference Safe the Date!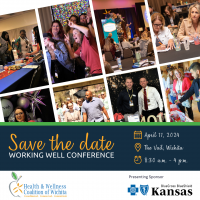 We invite you to join us
The Health & Wellness Coalition invites you to join us on THURSDAY, April 11th 2024 at The Vail, 210 N. Mosley St, Wichita KS 67202. Network and learn how to create a healthier, more supportive workplace culture where everyone wins at our 19th annual conference.
Conference registration will begin in January
HRCI and SHRM CEU's are pending.
Thank you to our 2024 presenting sponsor:

Click here to learn more, or email Mark Thompson


2023 Conference Materials
The ideas shared on the 2023 Working Well Conference Marquee Boards can be found here.
Keynote Speaker:


From Here to There: How Investing in Workplace Well-Being can Change the Future of Work
As the world of work evolves, business leaders and wellness professionals must work together to ensure employee well-being is a central part of every company's strategy. With over 30 years of experience working with global giants like Walmart and Yum!, as well as local health systems and supply chain companies, David Hoke, Chief Well-Being Officer at Thrive Global has seen the evolution of wellness from a benefit to a strategic imperative.
This evolution is creating challenges and opportunities for wellness professionals as we move the industry forward, from here to there. In this keynote session, you'll hear David's unique take on how the evolving well-being professional's role is critical to a culture of health, sustaining high performance, and changing the future of work.
Click here for David's bio and learning objectives.
Keynote Speaker: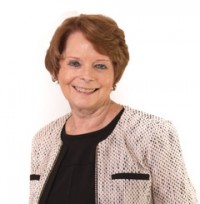 How to Create a Thriving Hive: How People Centric Workplaces Ignite Performance & Fuel Results
Mari Ryan, CEO and founder of AdvancingWellness, is a workplace well-being strategist, an award-winning author, and a nationally recognized speaker. She leverages over 35 years of business experience in various marketing, consulting and executive roles across a variety of different industries. For the past decade, Ms. Ryan has been creating healthier businesses and impacting the lives of employees, through her consulting work and speaking on workplace well-being.
Click here for Mari's full bio and contact information.
Breakout Session Speakers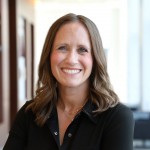 Get to Know your Resources! Need to save money or working on a tight budget? Join this session to look at what you already have imbedded at your organization and how to leverage those resources. Presented by: Amanda Schuster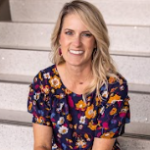 The Shift from Languishing to Flourishing to Live a "Thriving Life" Attendees will leave with the ability to acknowledge and fully appreciate the key role that one's individual well-being plays in our ability to live a flourishing, thriving life and key steps to take to achieve a sense of thriving. Presented by: Hayley Prophet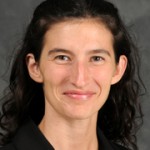 "How can the Worksite Improve Community Health?" Worksites are often unaware that they contribute to the health/illness of their employees, let alone how they contribute to the health/illness of their community. Understand the benefits of advancing health/well-being in the worksite and in the community and learn strategies that worksites can implement to begin the journey into worksite, then community health. Presented by Dr. Elizabeth Ablah
Additional 2023 sponsors include: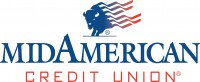 Click here to learn more



Click here to learn more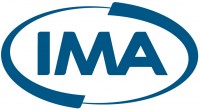 Click here to learn more



Click here to learn more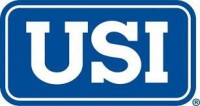 Click here to learn more


Registration rates increase $50 on March 28th. Conference refunds will not be granted after March 28th.
For additional information email the Coalition.