Working Well Conference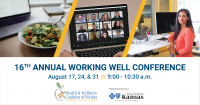 Conference recordings will be available through November 16th.
Why virtual?

For the past 15 years, the Health & Wellness Coalition has promoted the Working Well Conference. The 2020 conference was cancelled due to concerns surrounding COVID-19. In 2021, we are combining the success of the annual conference with local Think Tank sessions to offer three virtual mini conferences in August. This means more of your team and wellness committees can hopefully join us! To help with "Zoom Fatigue" felt by many of us, including members of the planning committee, we want to bring you this important information in short bursts to energize you and your worksite.
Thank you to our presenting sponsor:



View the 2021 Conference video
To download the conference flyer, click here


August 17th 9:00 – 10:30 a.m.

Enough with goals. We fail to achieve them, or even worse, we can't seem to make the achievements stick. It's time to make real and lasting changes in our lives by leaving the idea of goal setting behind and instead, creating "habit stacks" that will improve our health and positive outlook. Melia Stockham, PhD, will discuss the science of creating habits, and provide tips for making effortless improvement to your days.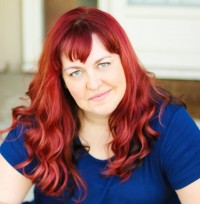 Melia has over a decade of experience in professional development, and is a certified trainer for the The Ken Blanchard Company, Achieve Global, Vital Smarts, Franklin Covey. She is also a certified EQi, Korn Ferry 360, Kolbe Corp., and Appreciative Inquiry practitioner. Her doctoral research on generational differences has been featured by the International Leadership Association and the National Decision Sciences Institute. Melia specializes in productivity, work engagement, and positive psychology interventions for organizations and individuals.
Dr. Kermit Davis is a Professor at the University of Cincinnati where his research has concentrated on the reducing ergonomic stressors of healthcare workers and patients in healthcare settings. In the last year, his research has done multiple studies investigating virtual offices.
August 24th 9:00 – 10:30 a.m.

Few topics are more confusing than that of what to eat! Join Celebrity Nutritionist and Motivational Speaker Zonya Foco as she shares the pros, cons and bottom-line on messages like: Is sugar as addictive as cocaine? Does meat cause cancer? What is intermittent fasting, and should we be recommending it?
Bringing evidence-based nutrition education into the workplace requires skills to distinguish between what's hot in the media and what actually produces long-lasting results, that can ideally be lived by the whole family. In this session, you'll learn how to utilize emerging evidence with sensible yet powerful nutrition-based wellness solutions that measurably improve health outcomes.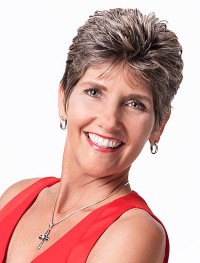 Celebrity Nutritionist Zonya Foco is one of the most exciting, inspiring, vital and unforgettable speakers in America. Known as America's Nutrition Leader, Zonya is the host of Zonya's Health Bites, her weekly PBS show that has aired across the nation for over a decade. She is the author of the "fastest way to healthy" Lickety-Split Meals and Eat REAL cookbooks, as well as the creator of numerous life-changing online courses and livestreams. Her high energy crossed with low maintenance solutions makes healthy living fun and doable for all. Learn more at Zonya.com
August 31st 9:00 – 10:30 a.m.

Now, more than ever, is time to re-imagine the way businesses operate. There is increasing corporate awareness about taking the need for equity, diversity, inclusion, and sustainability more much seriously. A radically inclusive, trust-based, cohesive workplace where employees experience a sense of community and belonging is attainable, but it requires effort and a change in paradigms. The connections between psychological safety, well-being, diversity, equity, and inclusion will be discussed. We will also explore ways to assess equitable wellness within the organizational setting.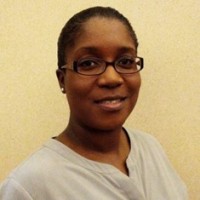 Tish Talley is the Global Lead of Inclusion and Diversity at Gallagher Benefit Services (GBS), a global consulting firm providing a full range of employee benefit and HR consulting solutions that align an organization's people strategy with its overall business goals. She brings over 10+ years of practical Diversity and Inclusion experience and more than 15 years of global talent and program management. Her mantra and recommended advice for anyone attached to this vital body of work are that we should continually strive towards meaningful progress, not perfection.
LaShonda Garnes with Community Connections Consulting Services

Thank you to our additional sponsors: Delta Dental of Kansas and Mid American Credit Union.
To register, click

HERE



For conference inquiries, contact Shelley Rich