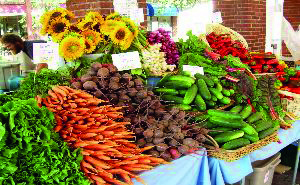 Upcoming Events
We All Eat! Event Wrap Up
Thursday, March 30th, 2017
3:00-7:00 pm
Sedgwick County Extension Office
This first annual, free community event was designed to empower individuals to make healthy eating a doable part of their lives through education, hands-on application, access, and support.
The event served as a healthy 'foodraiser' for the Kansas Food Bank with a suggested donation for attendees to bring a jar of peanut butter.
3:00 – 7:00 pm – 40+ educational booths in the exhibit hall
3:00 – 7:00 pm – Mock Grocery Store tours, led by a K-State Research and Extension Nutrition Assistant located in the Bison Room.
4:45 pm – Under Pressure? Let's Make Sure It's Dinner… Not You! Kansas' kitchen crusader, Chef Alli, shares how electric pressure cooking can quickly put tasty grains, legumes, soups, stews meats, and casseroles on the table. Demonstration located in the Sunflower Room.
5:30 pm – Live, Learn, Earn, Play, Pray panel demonstration in the exhibit hall
6:15 pm – Open-Face Cooking: Cast Iron Skillet Meals that Rock the House! Join Chef Alli for a fun demonstration of how cast iron cookware and fresh, flavorful ingredients can come together in one-pan meals your family will love. Demonstration located in the Sunflower Room.




8 to Your Ideal Weight – take a sugar quiz and sample foods low in sugar
Beautiful Day Cafe – backyard wild edible samples, krout pounding, hippoodsie porridge and more
Bike Walk Wichita – displaying several methods of using bicycles to carry groceries and advocating for the use of bicycles as healthy transportation to run errands
Children's Mercy Hospital – interactive activity featuring fruits and vegetables
– Chinese and Vietnamese healthy eating and food tastings
Dillons – share opportunity to explore digital app, digital coupons, Clicklist, and Community Rewards
Go! Healthy Kansas Vending – healthy vending snacks and blind taste tests
Healthy Green Nutrition – nutritious and easy to make snacks
Hunter Health Clinic – dining out and how to make healthier choices
– "Chopped" theme education using food you have at home
Kansas Wheat Commission – demonstrating how to make healthy, homemade tortillas and how to turn them into family friendly snacks
Kansas Soybean Commission – Tips on incorporating soy into your diet with samples
Kansas Grain Sorghum Commission – Food grade sorghum producers, popped sorghum and recipe cards
Kid Power Programs – Kid Power Cares, Inc. presents educational entertainment helping to give families the power to

FEEL

GREAT

about real food and fitness
K-State Pollution Prevention Institute – food recovery hierarchy and tips to reduce food waste
K-State Research & Extension – the Price is Right game to discuss meals prepared at home vs. frozen or eating out
K-State Research & Extension – demonstrate healthy foods to donate to the Kansas Food Bank, cooking & nutrition classes for seniors
K-State Research & Extension – healthy snack – veggie pizzas on crackers
K-State Research & Extension – education from a nutrition assistant on portion sizes using a "Chicken Feed" snack
– meal planning made easy and peanut butter and banana roll-ups
Mental Health Association of South Central Kansas – emotional eating and eating disorders
Midwest Dairy Council- decoding the dairy case
Morning Harvest Farm – discuss the benefits of pasture-raised meat
Orie's Farm Fresh – Awareness of local, healthy foods available within our community
Prairie Land Food – educational resources
Profile by Sanford – food label reading, portion sizes, and general exercise tips
Quality Care Services, Inc. – healthy snack made by children/parents, promote the family meal
Sedgwick County Farm Bureau Agricultural Association – spin the wheel game to educate on

GMO

's, antibiotics, and general agriculture questions
Southwest Dairy Farmers – mobile dairy classroom educating on the health benefits of dairy
Sunflower Health Plan – free health books
– beekeeping equipment, empty bee hive, honeycomb and little known facts about these marvelous creatures
– microsteamer and healthy meal options
Wichita Area Breastfeeding Coalition – benefits of breastfeeding, bottled water and resources
Wichita Dietetic Association – education by registered dieticians on label reading and portion control
Wichita Dietetic Association – what is healthy eating?
Wichita Dietetic Association – how to incorporate more vegetables into your meals, try turkey tacos
Wichita Public Library – examples of healthy cookbooks and food documentaries available for free check-out, fun kids activity
For questions, contact Tammi Krier or Shelley Rich.